I don't care how little disposable income you have, sometimes you've got to pamper yourself. Whether it's a little "me time", buying yourself a luxury item, taking a mini-vacation or getting a lap dance in an S&M club, studies show that these occasional indulgences are rejuvenating and can even help with self-esteem.
You don't have to be a Wall Street executive, major sports figure, or a GOP strategist to partake in these blissful moments of pure, luxurious self-indulgence. You'll just have to adjust your definition of luxury a wee bit.
SPA TREATMENTSMassage therapy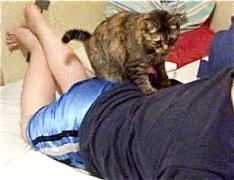 I learned this trick while taking care of a 21 pound cat named Ralph who gave me the best massage I ever had. If you don't have a cat, borrow one, the bigger the better. Wear something you don't want ruined (a vintage Armani jacket, or cashmere sweater for example), or just drape it over the affected muscle. It's only a matter of time before the cat will start kneading it. If you don't have any good clothing left, a piece of carpet or sofa fabric will also work. If the cat hasn't been declawed, you also get free acupuncture!
Here's another idea taken from the animal world: I've seen cats, dogs, horses and cows do it. Find a solid, well-anchored object that protrudes (ie: a fence post, doorknob, parking meter, mailbox or erect penis) . Lean the muscle or nerve that needs attention onto the object and adjust the pressure as you see fit.
Hot tubbing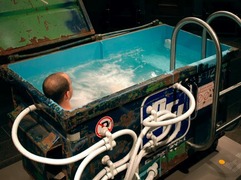 There's nothing like a soak in churning hot water to melt away the stress of watching CNN all day. If you're really resourceful, you can create your own jacuzzi out of a dumpster and some garden hoses.
For those who lack engineering skills , I've found that a tub, hot water and a hand beater (or a wisk in a pinch) does the trick. It's also a great work out for the upper arms and pecs. One word of warning: although you may be tempted, do not attempt this with an electric mixer.
MINI VACATIONS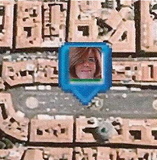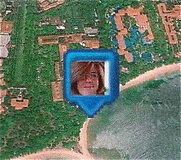 My vacation photos (4/6/10): Me next to a Bernini statue in Rome; me on the beach in Bali; me at Macchu Pichu
To me, there's nothing more restorative than a trip to a new, foreign destination.
Now that I can't even afford the fare to little Italy, Chinatown or Berkeley, I take
Google vacations
.
Just type in the destination of your choice and within seconds, you're there. Zoom in and it's just like being there without the jet lag, shots, expense, cultural immersion and worries about getting stuck next to Kevin Smith on the flight home.
Yesterday I visited, Macchu Pichu (without the altitude sickness), Bali, and Rome (how I love clicking down those ancient cobbled streets!). I topped it off with a visit to my favorite coffee shop in Amsterdam and still made it home in time for "American Idol."
GETTING YOURSELF A LITTLE SOMETHING
I don't have to tell you that buying yourself some small luxury item can be a salve to the battered soul of the working warrior. For some people it's shoes, for others it's electronic gadgets, for me it was lipstick. But non-working warriors need balm too.
I was fortunate in that I was able to see my crisis coming and scale back slowly, sparing me the pain of going cold turkey and the shock and indignity of downsizing too fast.
My financial meltdown in lipstick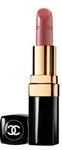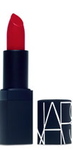 From left to right: cle de peau $60; Guerlain Rouge G $45; Chanel $30; NARS $22; mac $14; Revlon $8; Wetnwild $1; cherry Chapstick $.69; a flattering shade of lollipop $.20; wild berries free
By studying the timeline above, you'll see how you can make the transition from Chanel Raspberry Crush to crushed wild raspberries painlessly.
Find the shade of berry that's right for you.
The same principle can be applied to any type of product. Gadget freaks might start with an iPad and work their way down to another groundbreaking invention (in its time), the paperclip. Similarly, a shoe lover can go from Prada Gladiator Sandals, to Michael Kors to Steve Madden to Aerosoles to Keds to Old Navy flip flops to the drawstring from a Hefty Cinch Sak wrapped around the ankles and legs.
ALTERING YOUR CONSCIOUSNESS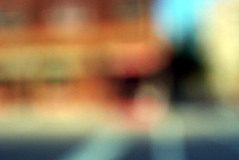 For some people, all it takes is a nice cocktail, joint or little pill to take the edge off and feel like all is right with the world. But even these mental vacations have gotten pricey.
If you're lucky enough to have terrible vision like I do, I've found that removing my glasses or contacts has the same effect as two cocktails or one joint without the calories or munchies. This is also a great time to look in the mirror.
If you have perfect vision, borrow or steal glasses from someone with terrible vision. Do not attempt to drive or read the instructions on heavy machinery while under the influence.
Some people have reported that hyperventilating and getting up too quickly also works.
***
Economic indicators suggest that this might be a good time to read my blog about being broke in France.