If you're anything like me, right now you're trying desperately to ignore the vague fear that you can no longer afford to continue your current housing situation. You probably keep hoping you'll get a new job, inherit a fortune, the government will intervene or that Armaggedon will strike before your next bill is due and you won't have to deal with it.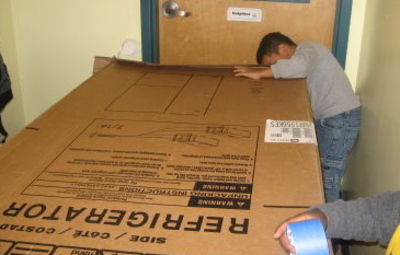 Here are a few clues that it may be time to confront the situation head on: You consider housing and utilities an either/or situation. Your home payments are eating into your insurance premiums. Your home has been padlocked and there's an armed guard at the door.
Now that you realize the gravity of the situation, you may be asking yourself "how will I find a new place to live when I have no income, cash or credit rating? Seriously, where the f*$k will I go?" Don't panic. Let's calmly and rationally go over your options.
Move in with family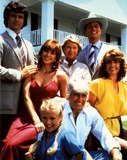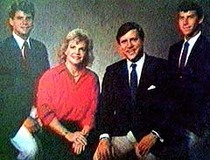 If you have a parent, child, cousin, or a third niece removed who has a home or dorm room, moving in with them makes good economic sense.
For some families, it's an ideal way to bond and reconnect. I left my parents' home and moved 3,000 miles away when I was an angry teenager. Moving in with them so many years later allowed us to reconnect and let them get to know me as an angry adult. It's also given me an opportunity to understand why I'm angry.
Of course, living in such close proximity to family can reawaken old dysfunctions and unresolved issues. It may not be right for you if:
You have sibling rivalry with the family dog.
The first time you heard the story of Oedipus, you thought 'woah, did Sophocles know my family?'
At the last family Thanksgiving dinner you broke out in stigmata.
The sound of their breathing really bugs you.
You're off your medication.
They're off their medication.
You have to give the Menendez brothers credit for standing up to their parents.
It's a squatters' market!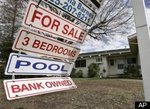 There are already 19 million vacant properties in America. The number is rising, as "for sale", "for rent" and foreclosure signs dot the landscape with more frequency than Starbucks. It's the perfect storm for squatters!
If you're a soon to be ex-homeowner, you can always squat in your own house after the bank kicks you out. But now is a great time to trade up.
Have you been longing to live in a nicer neighborhood? Dreamed of owning a pool and tennis court? Maybe you just want a more modern kitchen or a playroom for the kids. Your dream house is out there, you just have to keep your eyes open and be ready to stake your claim before someone else beats you to it..
There are also schools, hospitals, factories, stores and restaurants that are move-in ready. It's almost like a government incentive program for people who want to start their own business!
Here are some great resources for potential squatters:
A website devoted to squatting
.
Top abandoned towns
Brokers' guide to vacant property.
Become a troglodyte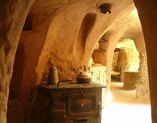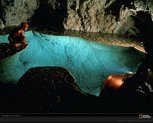 Maybe neanderthals had the right idea. Most caves are larger and better equipped than my NYC apartment was, without the nasty landlord, loud neighbors and rent.
There are caves available to suit almost every lifestyle. If you can't let go of your grandmother's armoire, your 48" flatscreen or treadmill, find a spacious cave with lots of storage space. If you're trying to cut back on stuff, grab a quaint, cozy cave with built in fireplace.
They're usually sound-proof and very private, making them the choice of several rich ex-Saudis who can afford to live in palaces. Some come with fabulous built-ins, like shelves and tables (how cute would those Liberty of London mugs they're selling at Target for only $5 look on them?). Some have indoor pools. Art lovers can even find caves with their own built in art collections.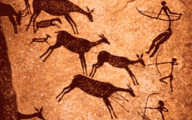 The only real downside to living in a cave is since they're often in remote locations, internet access and phone reception can be limited. Of course, this can be a plus if you've got creditors, the IRS or FBI after you.
Guide to caves in the US and cave locator by zip code
.
Container dwelling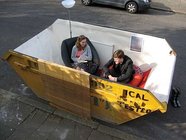 There was a time when it was considered pathetic to live in a refrigerator box or container. Now it's environmentally correct and a chic choice for anyone who lives in a city. I'm a fan of refrigerator boxes (especially sub-zero), but I'm single and somewhat nomadic.
For those who prefer a more stable home, shipping containers, dumpsters old railway cargo cars make a fine abode. I believe they may be the next housing bubble, so act now!
Remember, as demand rises, it'll become harder and harder to trade up. This is no time to settle. And when you find your dream container, grab it without hesitation. There are several people already interested in it and who knows when you'll find another one you like half as much.
If you have 100 bucks or so a month to spare, you might want to consider renting storage space in a public facility. 10x10 is enough space for a bed and mini-fridge. Not recommended for anyone who suffers from claustrophobia, it's a great option if you're broke, but really need to live in a gated community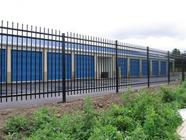 ***
Economic indicators suggest that this might be a good time to read my blog about being broke in France.